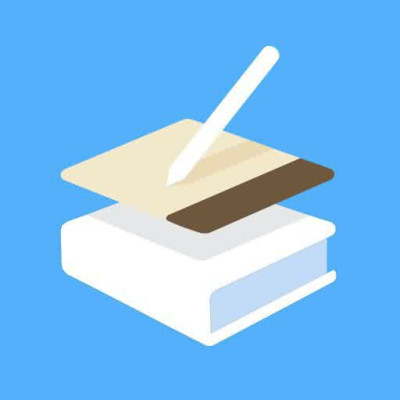 Important
Important Note! This review might be outdated. I keep it online for archival purposes, but be aware that some features may have changed.
Info
Disclaimer! I received this app for free by Flexcil (Thank you!)
Note, that I am not paid for the review, and I am free to write whatever I want, or even decide not to review the app at all. My reviews target neutral conclusions based on my usage, to let you draw your own judgments if this app is right for you.
Flexcil is an underdog in the group of annotation apps for the iPad. While rather new, it comes with some novel approach and fresh wind.
Everybody knows this situation: You work with a PDF, like literature or lecture slides, but then, you also want to take a couple of notes on the side in a notebook. Ideally, everything in digital. But, when having a PDF annotation app and another app for digital note-taking side-by-side, the multi-tasking capabilities of an iPad soon hit their limits.
Using Flexcil, you can work on multiple documents at once with an overlay interface. It supports dragging elements from your PDF to a notebook, and taking valuable notes in a scratchbook while still looking at the slides or book; all without leaving the app or using multi-tasking.
Summary of Flexcil
Providing a novel approach to work on multiple documents at once.
Lack in core functionality and customization. The overlay does not go as far as it could.
---
Free / Additional features with upgrade for $8.99
---
Tested platforms: iPadOS
This review tested the following versions: iPadOS: 3.1.4.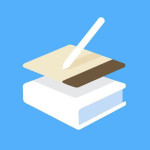 Combining note taking and PDF annotations
Flexcil is a very new, yet still rather unknown app for the iPad and Apple Pencil. It started as a subsidiary of Hancom, a large South Korean word processor developer.
Unlike other note-taking applications, Flexcil tries to approach this field with some novelty. While working with PDF files, a notebook for handwritten memos can be opened as an on-screen overlay.
Furthermore, it supports pen gestures to help with the markup process like marking larger text passages, and supports drag and drop of texts and images between PDFs and notebooks.
Pricing
Flexcil comes as a free app with an optional in-app purchase. The free variant already comes with most of the features. Almost everything can be tested and used for free, as the core functionality does not that change much.
If purchasing the add-on with the (weird) name Flexcil Standard ($8.99), there are some neat extra features like additional templates for notebooks, watermark-free export of PDFs, export of handwritten notebooks, jump links between different documents, and similar.
Markup
Launching the app, it greets you with an overview of all documents and notebooks. The app loosely distinguishes between so-called study notes, which are mostly traditional notebooks, and PDFs.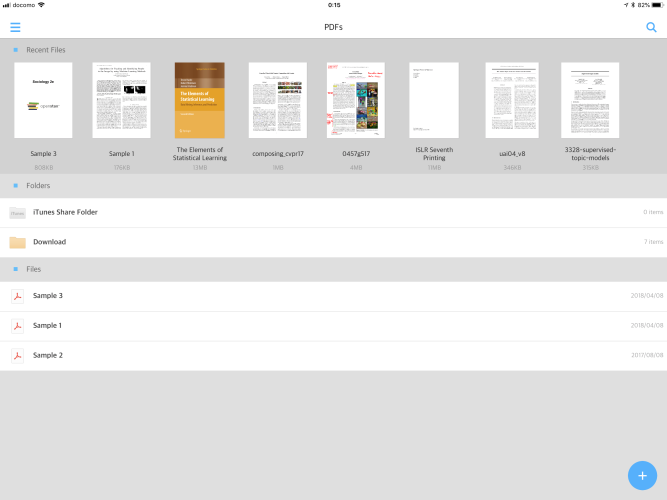 A study note is a created notebook, with a cover, and a page-style, like ruled, squared, etc. It starts with a single page, but more pages can be added. In contrast, a PDF is a full document, imported from outside Flexcil, like another app or cloud storage. More on the import process later.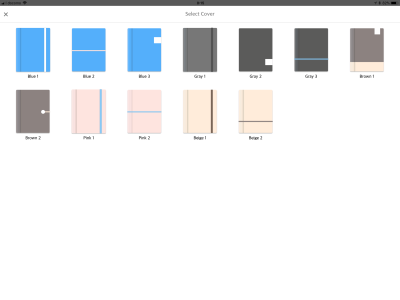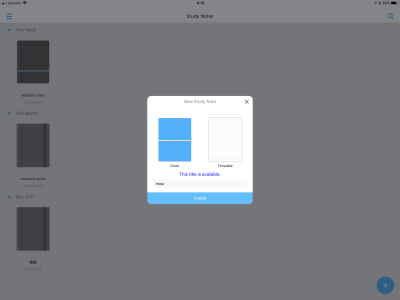 Document view
After pressing on either a study note, or a PDF, the app will proceed to open that document. A standard viewer will open; you can read the document, scroll through the pages with a standard 2-finger swipe, and pinch-to-zoom, as one is used to it on the iPad.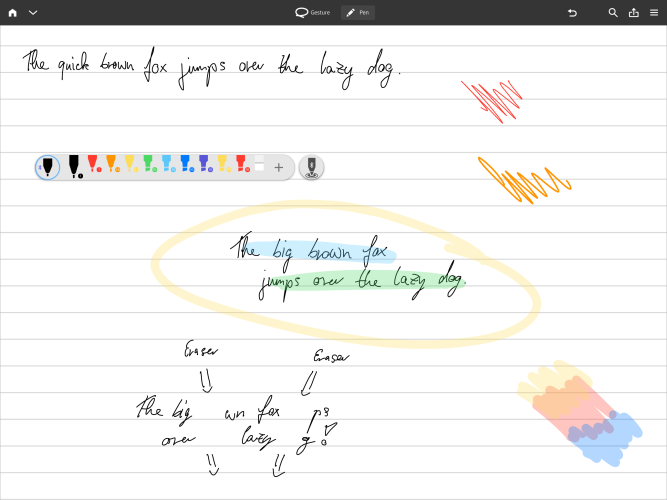 In portrait mode, a single page is shown in full screen, and in landscape mode there is even an option to show two pages at once, which is pretty neat but unfortunately only rarely supported in note-taking apps.
Annotations and note-taking is closely tied to the Apple Pencil. There are two modes: Gestures, and pen. While the main UI elements are on the top, there is another menu bar which can be freely moved around the screen. The free menu bar holds all pen-related options, like switching between different colors, stroke widths, or toggling pen/marker.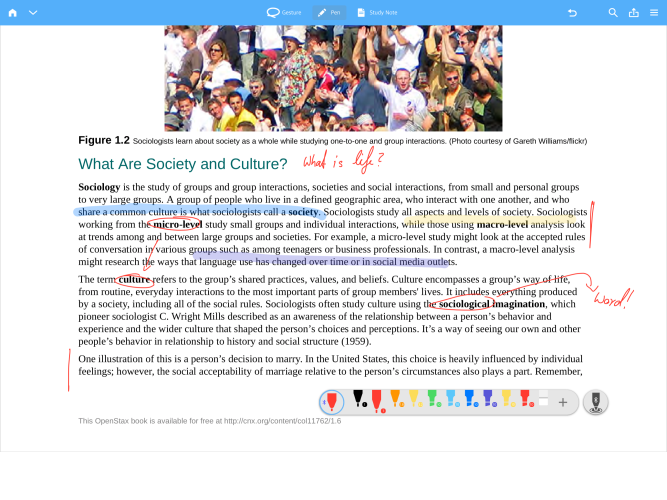 In the top, there are furthermore buttons for switching between Gesture/Pen modes, undo and redo, a Search function, a sharing button, and a toggle to open a side bar. The side bar holds features like bookmarks, a list of all annotations, and references/jump links to other documents.
The search button is mainly for PDFs, as it can not search through handwritten text.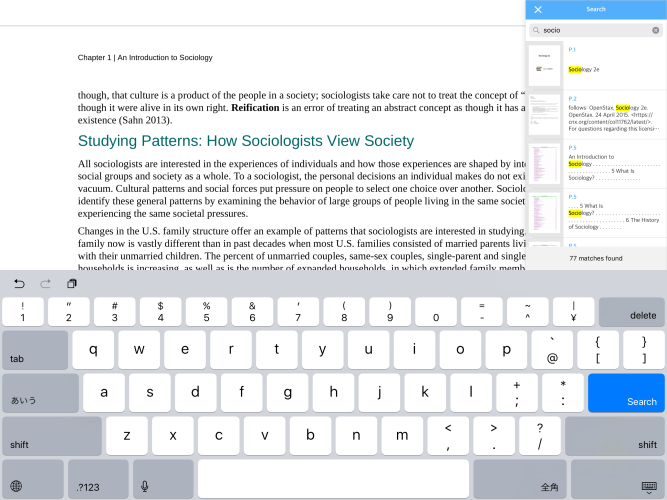 When being in a PDF, there is another button called Study note. This one opens an overlay to a related notebook. More on that later.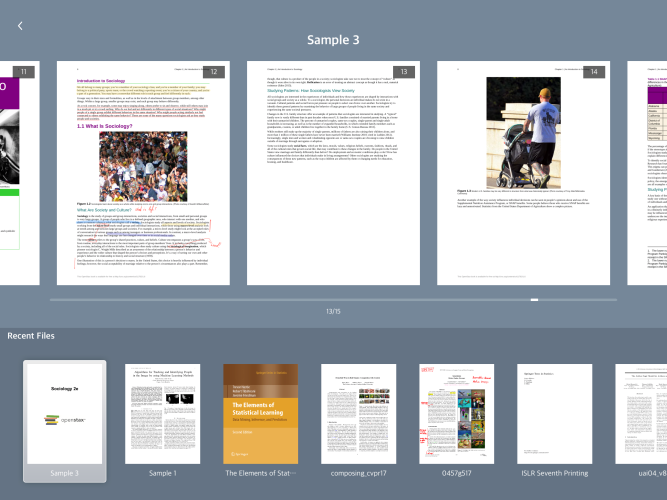 Gestures
Flexcil uses a system they call Gestures. With that, they don't mean touch gestures like 2-finger swipe or pinching, but rather, Apple Pencil gestures.
Using the Apple Pencil, one can mark full sections of text or copy-paste a figure or text section. For example, if making a straight line next to a text passage while being in Gesture mode, three buttons will pop up: Mark the full paragraph, underline the full paragraph, or copy-paste it.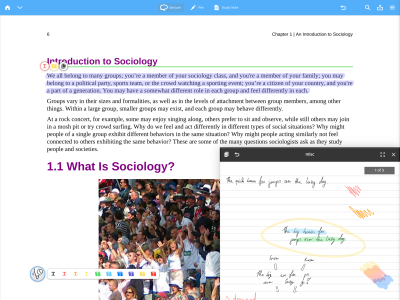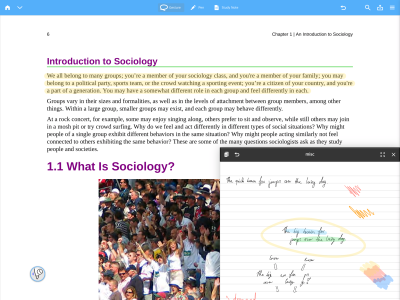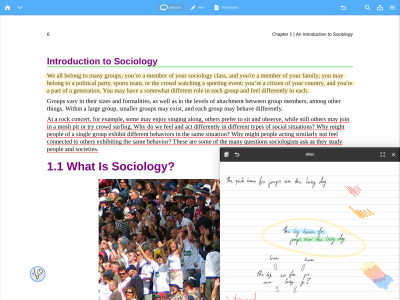 Pen
When in pen mode, when can use the Apple Pencil to freely draw. It really works as expected, so I have not much more to say here.
Next, we look at the overlay mode, which is the main selling point of this app. Afterwards, I come back to the Ink Engine and look at what features it provides.
Overlay mode
So, the main selling point of Flexcil is an overlay mode. As noted before, when annotating a PDF, there is a button called Study note. As a matter of fact, one can open a notebook on top of a PDF.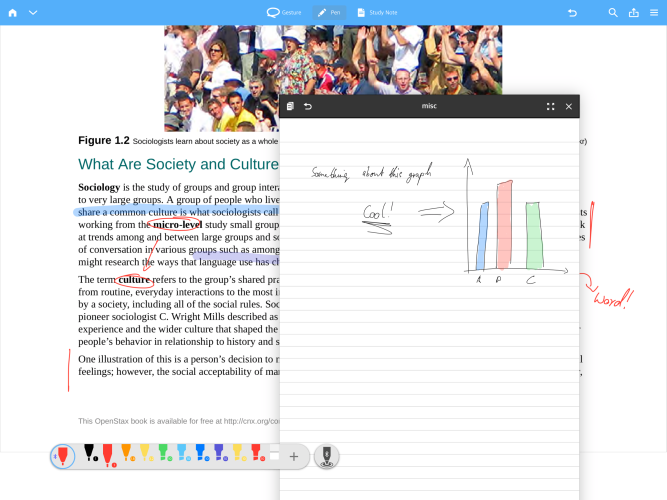 Clicking the study note button, a notebook will appear as a small window. With a 3-finger-swipe, or simply holding it by its menu bar, it can be dragged around, like a window on a normal computer.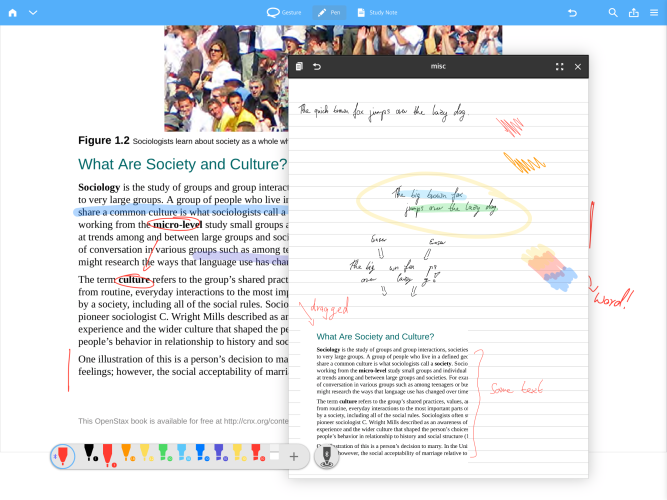 Now, this opens a box of extra features, as the PDF and the notebook can interact with another. Using gestures, one can drag screenshots or text passages from the PDF document into the notebook. There, it will be added as a draggable and resizable image.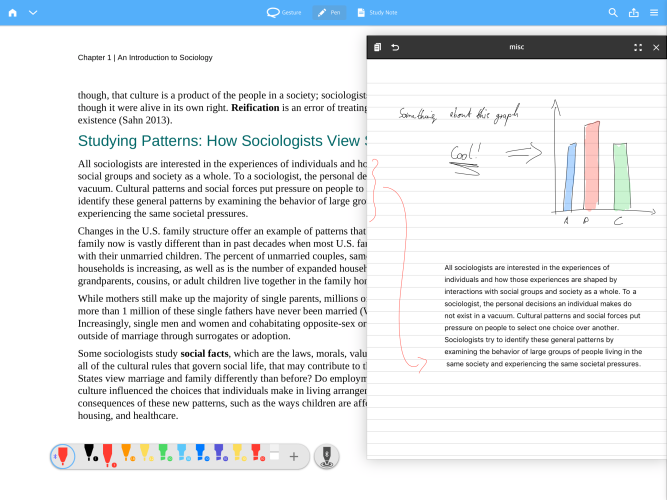 The idea is the following: You work on a PDF, lets say a technical book or lecture slides; and then, open a notebook as an overlay and grab important passages. Furthermore, you can take notes inside the notebook while reading the PDF, all without switching to another app. It lets you work on two documents at once. Both documents are annotatable, so one can switch freely and make annotations on either, while moving the overlay around as needed.
Note, that this only goes one way: There is currently no option to open a PDF on top of a notebook. There is also no option to open another PDF on top of a PDF, or another notebook on top of a notebook. A PDF in the bottom, a notebook on top, that's the way it currently works.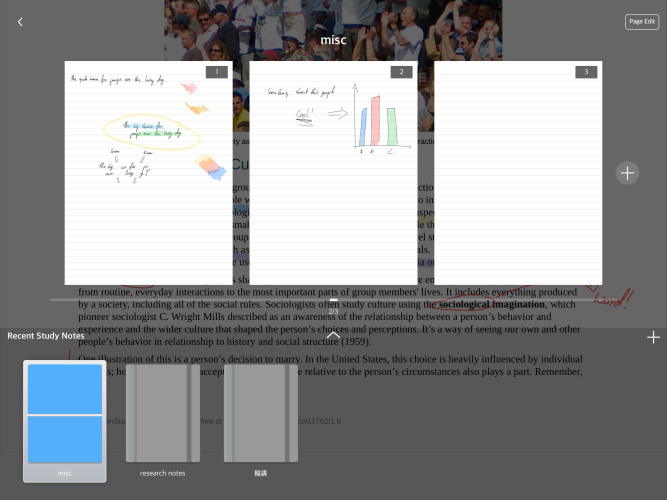 When dragging elements from the PDF to a notebook, it will create a jump link. In the sidebar, it is possible to find previous pastings, and later on just jump to the original location, e.g. opening the correct page in a PDF.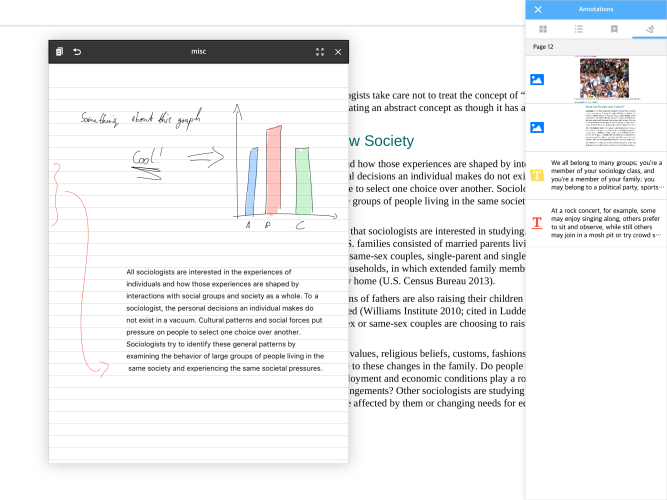 Ink Engine
As discussed above, the application is closely supporting the Apple Pencil. Thus, things like palm recognition do not need to be worried, as it will by default only use the Apple Pencil tip for drawing strokes.
Other smart pens are not really supported. The Apple Pencil support can be deactivated to use the finger for drawing strokes, but as there is no support for a zoom box, annotations with the finger are not really a viable option.
Whether using the pen or marker, there are about two dozen color options and a slider to adjust thickness. There are no options for other brush styles, but the default looks pretty reasonable.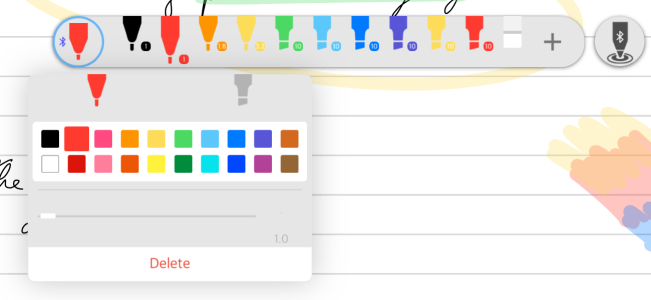 Compared to other apps, I would say Flexcil is definitely on the smoother, more beautiful side of the scale, when it comes to the look and feel of handwriting. While this is obviously very subjective, I feel for me the application produces a rather good looking handwriting, compared to some other apps. An example of a written and exported document can be downloaded over here.
The marker is implemented in a way where multiple strokes do not overlay with another. That means, multiple markings won't get darker as the transparency stacks.
There is an eraser, which can also be freely adjusted in size. It works in a way where it erases full strokes. It can't be set to only erase partial strokes. Furthermore, in testing I noticed that it won't work with annotations created in other applications. Thus, if an already annotated PDF is imported from another app, these strokes can not be edited.
Lacking features
Overall, I noticed a certain lack in core functionality for the Inking.
For example, there is no lasso tool. While the gesture tool would be ideal to draw a circle around annotations, nothing happens after doing so. Therefore, it does not seem possible to move, resize or edit previous annotations. Figures and text copied from PDFs to notebooks can be resized and moved, so that functionality seems to be already implemented.
There are no options for importing images or screenshots. While this feature is also already present for dragging images from PDFs to a notebook, it is not possible do import any other images from other applications.
Lastly, I was also missing a shape feature to easily draw things like circles, straight lines, triangles or squares.
File management
In the following, I will discuss file management within Flexcil. How do files go into Flexcil, and what to do after finishing annotating a document or notebook, to get the data out of the app again.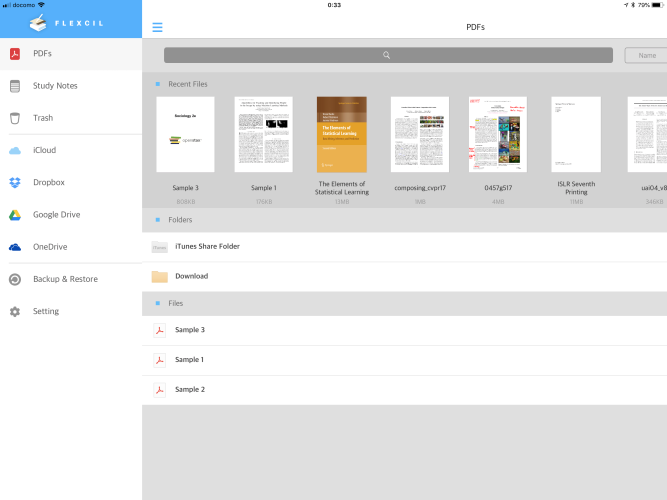 Import
The interface strictly separates notebooks (Study notes) and other documents (PDFs). Notebooks are simply created within the application, and there is no option to import them.
For PDF, there is direct support for iCloud, Dropbox, Google Drive and OneDrive. All cloud storages can be accessed from within Flexcil after logging in and authorizing Flexcil to be able to do so.
From the sidebar, either cloud storage can be accessed, and single PDF files can be imported into the app. One-by-one. There is no support for importing folders, multiple files, or any file formats except .pdf.
Furthermore, there is no support for syncing (neither 1-way or 2-way).
Export
For exporting documents, Flexcil goes the standard way by exporting everything as PDF using the iOS Share Extensions. After buying the upgrade using the $8.99 In-App Purchase, both PDF files and notebooks can be exported. If going the free route, notebooks might be vendor-locked, but PDFs can still be exported (with water marking, though.)
The export dialog supports for selecting single or multiple pages, or full documents, so it is rather flexible. In the option menu, there is also a way to toggle export of page templates; that means, the ruled/squared/colored background of the notebook can be either included or omitted from exporting notebooks.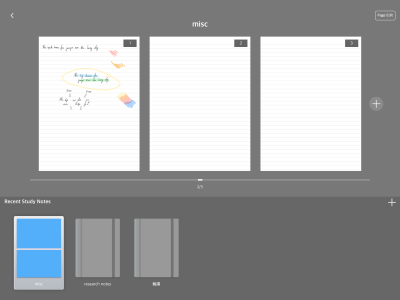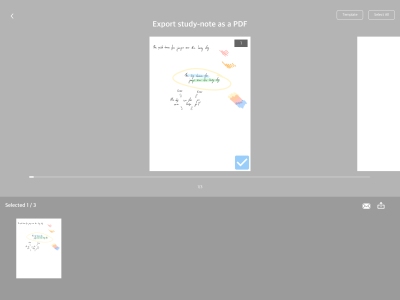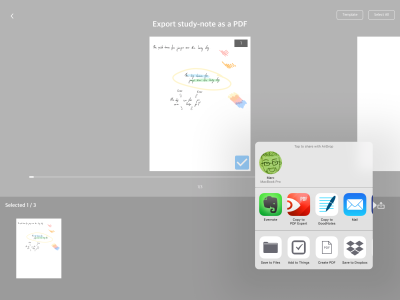 After selecting all settings, it simply goes over into the standard iOS sharing extension menu. Therefore, it can share to virtually any app which supports iOS sharing: E-mail, Cloud storages, Evernote, and many more.
As there is no automated syncing, every file needs to be exported by hand, if you want to use it in another app.
Managing documents
For managing different documents, we again need to distinguish between PDFs or notebooks.
PDFs can be filed into subfolders for more advanced organization.
Notebooks can not, for some reason. They are in an ordered list, which means they can be ordered either by timestamp or name[*], but there are no categories or other features to give them meaningful structure.
[*]: There is also a button to sort by file-size, but all my notebooks are shown as 0 bytes, so it currently does not seem to work.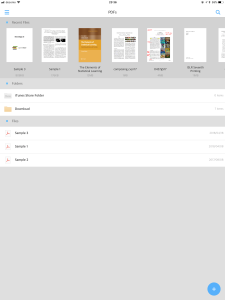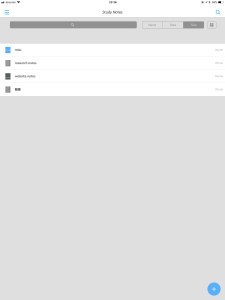 Backup
There is a manual backup function. Pressing the backup/restore button in the side menu allows for exporting the whole Flexcil database and either sending it via email or uploading it to a cloud storage of choice. At a later point, it can be restored back into the app.
There is currently no option for automated backup to any cloud service.
Future wishes
In the following, I go over a couple of things, where I think that Flexcil has some potential for future updates. The app, as it stands, works well as described above.
In the below, I want to emphasize on things to build on the current potential, to create something even better. Therefore, while it might sound a bit negative, it is really just a brainstorming of ways to make this app better.
As the application is free in its base version, there is no reason to hesitate trying it out, anyway!
More integration between documents
The application comes with something novel, and it is certainly the right direction. Nonetheless, it still feels overly analog, and not yet developed to its extent and digital possibilities. I would like to see more experimenting with new workflows.
Similar to competitors like LiquidText, it would be nice to allow more context between multiple documents: Visually connecting jump links, connecting a passage in one document to a graph in another, and other features like that.
Then again, Flexcil is very young and also much more affordable compared to its competitor. I feel it has some great potential, but currently does not go as far as it could go.
Better file management
To move documents in and out of Flexcil, the application currently uses a standard Import/Export scheme. Documents can be imported using Files.app or Cloud storages. While the latter is implemented into the app, it still needs one-by-one import of every document.
Similarly, documents and notebooks can later be exported as PDFs. Either fully, or just a subset, when selecting single or multiple pages for export. Again, one-by-one.
For the future, it would be great to have more sync capabilities. For example, to a folder in the Dropbox or so. Even greater would be having 2-way sync of PDF files, as it is possible in applications like PDF Expert. It is tedious to go back to manually importing each and every document you want to edit. Syncing a full folder of hundreds of documents is the way to go. Other applications also show great use of features like auto-publishing to Evernote.
This comes in hand with a need for automatic backup. Currently, there is a button to do a manual backup, or a manual restore, of the full Flexcil database. While this is great, an automatic way would be an ease of mind. Many people work with lots of documents and very important notes. Trusting all this data to a single app can be nerve-racking, if there is no automated backup solution.
Lastly, file management also seems to be expendable. PDFs and notebooks seem weirdly separate. If there would be something like categories or tagging, it would be easier to cluster PDFs and notebooks of related projects.
Core functionality
Flexcil makes an effort to be novel. It has gestures to make the annotation of larger paragraphs easier. It also comes with the overlay feature, allowing to work on PDFs and notebooks at the same time.
Unfortunately, the app does lack some functionality when it comes to the core functionality of simple note taking. The annotation is rather simplistic. There are no tools except a standard pen, a marker, and the eraser.
It would be great to have a lasso tool to circle annotations and modify or move them around. While it seems, that the gesture functionality would make it easy to have a circle gesture, I was not able to select or move any previously written annotations.
Other things missing from the annotation part of the app, which competitors usually support, would be: A zoom box to assist with writing smaller notes, and a shape-tool to easily write shapes like straight lines, circles and boxes.
There is also no support for importing images and such; except if they are already part of a PDF. A screenshot from a PDF can be dragged to the notebooks while using overlay mode; but there is no feature to actually import an image outside the app into a notebook. iOS 11 drag and drop is also not supported.
Conclusion
Flexcil is a great new competitor in a field, where there is really not that much new. While other apps can focus on either PDF annotations or note-taking, the app Flexcil manages to balance out both worlds, up to even combining them.
The overlay mode combines working on lecture slides with taking notes in a notebook, and that intuitively, as it would be in the real world with analog books: It brings the common workflow of putting a notebook on top of a thick book of technical literature, right on your iPad.
Unfortunately, due to focusing on combining so many things, some it its parts are a bit lackluster. Other applications (e.g. GoodNotes, NoteShelf, or Notability) can often deliver much more functionality for simple note taking. Then again, these apps will not allow you to work on multiple documents at once, so that is a clear trade-off. PDF giants like PDF Expert have a multitude more things just for PDFs, but lack anything related to note-taking.
One thing which is mention-worthy is the Ink Engine of Flexcil. During the tests, I was pleasantly surprised how smooth the pen draws its strokes. As a result, Flexcil results a very nice and natural looking handwriting, a thing which competitors often fail to do.
All-in-all, Flexcil provides a novel and simplistic way to work on multiple documents, by having notebooks as an overlay over PDFs.
Two noteworthy alternatives, which try something similar and go beyond the standard note-taking app: LiquidText and MarginNote. LiquidText is a great alternative which I have grown to love. You can work with dozens of documents in a shared workspace, where multiple documents can be cross-linked with handwritten annotations. It is definitely also worth checking out, but much more expensive. I have yet to test MarginNote extensively, so this is just a hearsay - a "there is also this other app" kind of mention.
Pro
Novel approach to work with PDFs and notebooks at once.
Provides a smooth ink engine resulting in nice looking handwriting.
Gestures to easily annotate paragraphs or larger sections.
Contra
Poor file management without proper syncing capabilities.
While the combined approach is novel, the core feature set for either PDFs or notebooks is rather simple.
Few options for customization.
Summary of Flexcil
Providing a novel approach to work on multiple documents at once.
Lack in core functionality and customization. The overlay does not go as far as it could.
---
Free / Additional features with upgrade for $8.99
---
Tested platforms: iPadOS
This review tested the following versions: iPadOS: 3.1.4.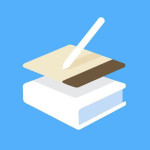 ---
Screenshots


























---
Disclosure: This post may contain affiliate links. This means I may make a small commission if you make a purchase.
---
Facebook
Twitter
Reddit
tumblr
Pocket
LinkedIn
E-mail
About me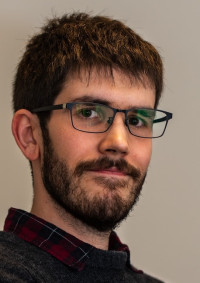 Dr. Marc A. Kastner
I am an assistant professor working on computer vision and multimodal understanding. I am interested in task- and knowledge management. In my free time, I blog on productivity workflows and apps.
For my professional portfolio, please visit: marc-kastner.com
See Also
Comments